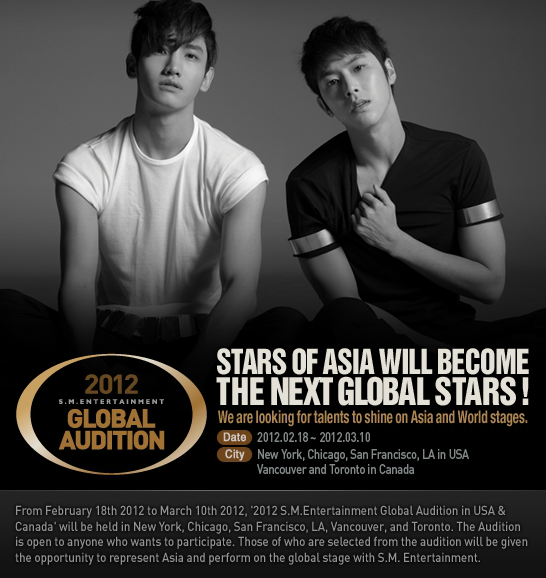 EVERYBODY! IT IS THE TIME WE HAVE ALL BE WAITING FOR--THE 2012 SM ENTERTAINMENT GLOBAL AUDITIONS!!!
I was so excited when I heard it was happening. I screamed and ran out of the room to dance around the whole house XD
Anyway you can probably garner that I will be attending. Because this is part of a Kpop blog, I'll post some info for you.
The Global Auditions will take place in Japan, China, Korea, Canada, and THE US! They will take place between Jan. 7th - Mar. 24th 2012.
Here are the places and corresponding dates:
KOREA:
Busan - Jan. 7th
Daegu - Jan. 8th
Daejeon - Jan. 14th
Gwangju - Jan. 15th
Seoul - Jan. 28-29th
CHINA:
Shanghai - Feb. 5th
Beijing - Feb. 12th
JAPAN:
Tokyo - March 20th
Osaka - March 24th
CANADA:
Vancouver - March 7th
Toronto - March 10th
USA:
New York - Feb. 18th <-----THE ONE I'LL BE ATTENDING!!!
Chicago - Feb. 20th
San Francisco - Feb. 26th
Los Angeles - March 3rd
As always, you can audition for singing, dancing, actor/actress-ing, modelling, or song writer/lyricist-ing. :)
Anyone can audition and there is no fee to pay.
To REGISTER:
send an email or apply through Youtube.
The USA email is: 2012usa@smtown.com
The CANADA email is: 2012canada@smtown.com
They will send you a confirmation email receipt indicating audition time and place.
If you want to apply through Youtube, please use this link.
http://www.everysing.com/ShowEventDetail.aspx?seq=121
FOR BOTH EMAIL AND YOUTUBE, you must include:
Name/Gender
City and Date (of where your audition is)
Nationality/Ethnicity (ex. American/ Chinese-Korean in my case)
Category applying for
Date of Birth
School/Grade
Contact Info: 1) Phone, 2) E-Mail, 3) Website
PHOTO ATTACHMENT
AT THE AUDITION,
SINGERS: sing a cappella without an MR and a mic. Cover and original songs allowed. (up to 2min.)
DANCERS: CANNOT bring their own CDs. They will provide music for you to freestyle (up to 2min.)
ACTORS/ACTRESSES: impromptu acting. Scripts/monologues are to be memorized and brought by each individual applicant
MODELS (Fashion/Commercial): pose
COMPOSERS/LYRICISTS: submit original demo CDs or musical scores
If you have any questions contact
USA: 2012uhelp@smtown.com
CANADA: 2012cahelp@smtown.com
or check out the website!
GOOD LUCK TO EVERYBODY WHO WILL AUDITION!!!!